Wonder Woman, Harley Quinn and Male Directors Ruining Everything
From protagonist to sex object and vice versa.
Now that Harley Quinn: Birds of Prey (2020) is streaming on HBOMax, I can finally watch it again. It was my penultimate pre-corona movie (I also saw Emma.), and the last one I saw alone in theaters.
I'm not really a comics person, but when so many movies are being adapted, I catch some just to marvel at all the money being poured into them. I've probably seen about 3/4 of Marvel movies (e.g. Iron Man, The Hulk, Thor). Over at DC Comics (e.g. Batman, Superman), Wonder Woman (2017) is my everything, so I also saw Justice League (2017), in which she appears as part of the gang of superheroes. (And then, of course, who wouldn't see Aquaman (2018), for obvious reasons – but please refer to my previous post for more on that.)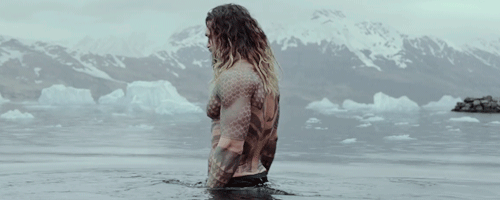 Justice League is a dumpster fire, especially as a follow-up to Wonder Woman. It's like directors Zack Snyder/Joss Whedon (long story, doesn't really matter here) took everything empowering about Wonder Woman and went "We don't need it."
The sexualization of the Amazon warriors' costumes was well-documented before Justice League was even released: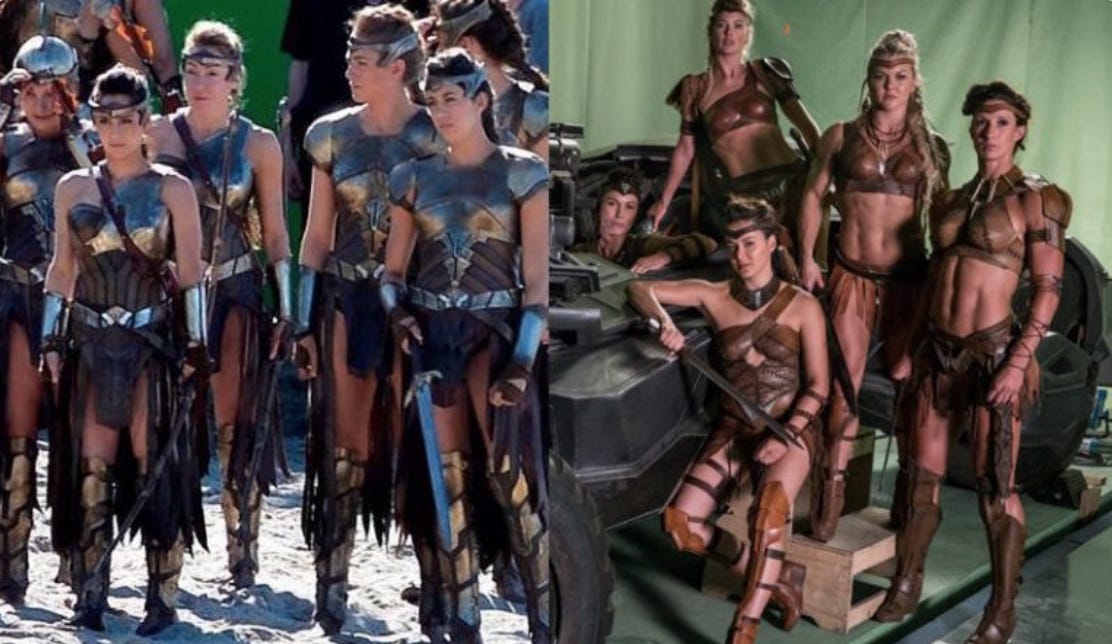 And then. And then.
There was the absolute travesty of this extended shot: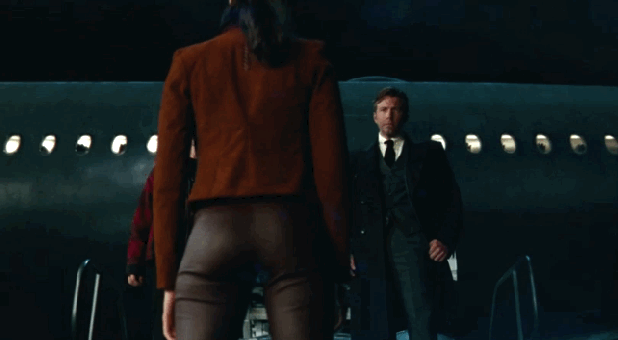 I don't know if I can properly convey to you how disgusting this shot in Justice League made me feel, but I'll try. YES I KNOW IT'S A SUPERHERO MOVIE AND THERE'S A LONG TRADITION OF SEXUALIZING WOMEN'S BODIES AND THE ORIGINAL WONDER WOMAN WAS LITERALLY SATURATED WITH SADOMASOCHISTIC IMAGERY BUT YOU KNOW WHAT, PATTY JENKINS CHANGED THAT AND GAVE US A BEAUTIFUL FILM WHERE THERE WAS AN ISLAND OF WOMEN AND WHEN WE LEFT IT TO "GET ON WITH THE STORY" I THINK EVERY WOMAN WATCHING IT WAS LIKE "CAN'T WE JUST STAY ON THE WOMEN ISLAND" BUT WE WENT ALONG WITH STEVE AND WWII AND THEN WE GOT THE NO MAN'S LAND SCENE SO IT WAS KIND OF WORTH IT AND TO COME OFF THAT HIGH TO A MOVIE THAT PUTS WONDER WOMAN IN LEATHER PANTS SO THAT WE CAN PAN UP ON HER ASS IS AN INSULT TO ACTUAL SUPERHEROES AND I'D PREFER IT IF THERE HAD BEEN NO WOMEN IN IT AT ALL.
It's not that Justice League is so egregiously worse than any other movie that features one woman in a gang of men, where women-wear-80%-less-clothing-than-men-but-look!-they're-just-as-capable-as-the-men-and-that's-feminism! There are tons of movies like that. Some of them are even good, frustratingly so.
It was the hard comedown from Wonder Woman to Justice League that really set me off. The first time I watched Wonder Woman, I cried five times. FIVE TIMES. And then her next movie it's all about her ass.
Here's the No Man's Land scene in Wonder Woman, as, like, a palate cleanser:
Compared to that total letdown, though, Birds of Prey is actually a breath of fresh air.
I have a documented interest in Harley Quinn. To discuss her further (in the movies – like I said, I'm not a comics reader), let's go back to Suicide Squad (2016).
As a little reminder, Marvel put out The Avengers (2012), an ambitious crossover-payoff-culmination of four previous solo movies. It did extraordinarily well. So the folks at DC Comics wanted the same thing, which is how we got Justice League, except they didn't bother to complete the full solo movies before it came out. Suicide Squad is a side quest of that – another team up movie, this time of villains, that features the Joker in a small role and barely shows Batman.
What it does show is a whole lot of Harley Quinn.
Suicide Squad is not a good movie. But it is a little fun because of her.
As the Joker's imprisoned girlfriend, she plays into the crazy/hot scale with full self awareness. She's eye candy in a really dark, moody movie that had so many makeovers before its release that it came out even worse than Justice League.
But I don't fault it! Because I went into it knowing Harley is a sex object. I get it. If you have Margot Robbie in a role, you want to celebrate how gorgeous she is.
But truly.
This movie did not know when to quit.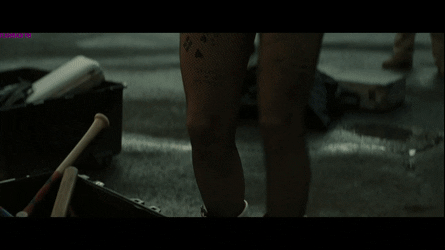 I guess I also loved seeing the rest of the characters running around her in circles, not sure how to handle her. So, very thin silver linings.
Fine. I don't know why I enjoyed Suicide Squad, okay?
But coming from Suicide Squad to Birds of Prey is the exact opposite effect of coming from Wonder Woman to Justice League.
Birds of Prey is a light, bright, splash of color that highlights Harley Quinn's bipolar moods and is just plain fun. Like Wonder Woman's solo movie, it shows Harley Quinn in all her glory – in her case, a modge podge of nonmatching outfits, hacked-off pigtails and a hyena in her bathtub.
Here is a full scene dedicated to how much Harley Quinn loves this one sandwich. When was the last time you saw a movie that really celebrated a woman who loves food?
(Don't be put off by the weird New York accent – you get used to it pretty quickly.)
Not to mention, the action scenes are lit up and shot so that you can really appreciate the fight choreography. You can see what's happening, track the action, move from one shot to the other with ease. It's up there for me with River Tam's fight scenes in Serenity (2005).
And yeah, fine, there's also that cute moment in the final fight scene where Harley gives Black Canary a rubber band for her hair (a little too precious for my taste).
It's nice to be able to enjoy Harley Quinn.
I've been harping on DC Comics this whole time, but Marvel is right there with them – their female characters might be more well-rounded, but it took them TWENTY MOVIES to find the bandwidth for a female solo film. I guess what I'm trying to say is a repetition of the familiar call that it's high time superhero movies stop being a little boys' club. When it's this hard to get female characters and female perspectives right, you're doing it wrong. Do better.