There's a great bit in Pirate Radio (2009), a wonderfully silly British movie about radio DJs on a boat in the '60s with a killer soundtrack and a legacy cast, where they introduce Mark, a minor character, as "the sexiest man on the planet."
Midnight Mark is mysterious and wears leather pants. And, as is pointed out, he "Hardly ever speaks. Not even when he's broadcasting." While this would suggest that his silence is adjacent to his sexiness, it is, in fact, his very silence that informs his sexiness. Later, when they ask Mark what his secret with women is, he responds: "Simple. Don't say anything at all … Nothing. Then, when the tension becomes too much to bear, you finally, finally, you just say: 'How about it, then?'"
Silence is alluring. Silence allows you to fill it with whatever you desire. Silence is complicit, it agrees with you, it sees you and recognizes you and you can find comfort in it. Or sexiness.
So I'm gonna take a leap here and say that's why I have a minor obsession with Kylie Jenner.
I do not partake in the Keeping Up With the Kardashians. As a millennial of the female persuasion, I didn't come onboard with the non-competition reality TV genre until very late in my millennial-ness. What came to me of the Kardashians were tabloid headlines courtesy of Kanye West and Kendall Jenner's modeling career. Memes of "This is a case for the FBI" and "you're doing amazing sweetie." Kylie Jenner's uncomfirmed lip injections.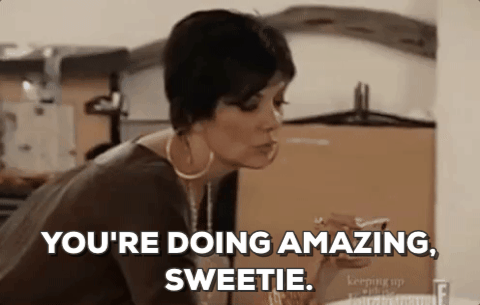 Until I got Snapchat.
Snapchat was Kylie Jenner's animal. It so belonged to her that when she mused online one day about whether people were still using Snapchat, the company lost $1.3 billion in market value. (She was back to business as usual the following week, which makes me think someone at Snapchat came through for the Kardashian empire.) She became a billionaire off a makeup company that she sold pretty much exclusively on Instagram and Snapchat. Basically, she took the one thing about her that no one could stop talking about – her lips, and whether or not she'd gotten injections – and said, "See these lips? They can be yours. Here's the lipstick that I personally wear." And it worked.
The thing is, that unless she was selling something, the woman did not speak. She would pan up and down the luxury of her house; of her possessions; of her body, especially. High angles and low angles of her body and of her car and of her jewelry and swatches of her eponymous makeup brand. She would lipsync to songs that would then chart, to the extent that Genius.com dubbed her effect The Kylie Bump.
Her snaps had the confusing allure of Tyler Shields's video portraits, where I'm not quite sure why it exists but I'm simultaneously attracted to whatever is going on and have a strong suspicion that someone is trying to seduce me.
(Warning: strobe lighting ahead)
The content is like sand running through my fingers. There's nothing to hold onto, and it makes me want to know more.
So when the one-off season of Life of Kylie aired in 2017, I was excited.
Because I'd barely heard Kylie talk.
And I wanted to hear what she had to say.
But there wasn't much more to grab onto than there had been before.
Rant Interlude:
The part that sticks with me is that she was able to look like this: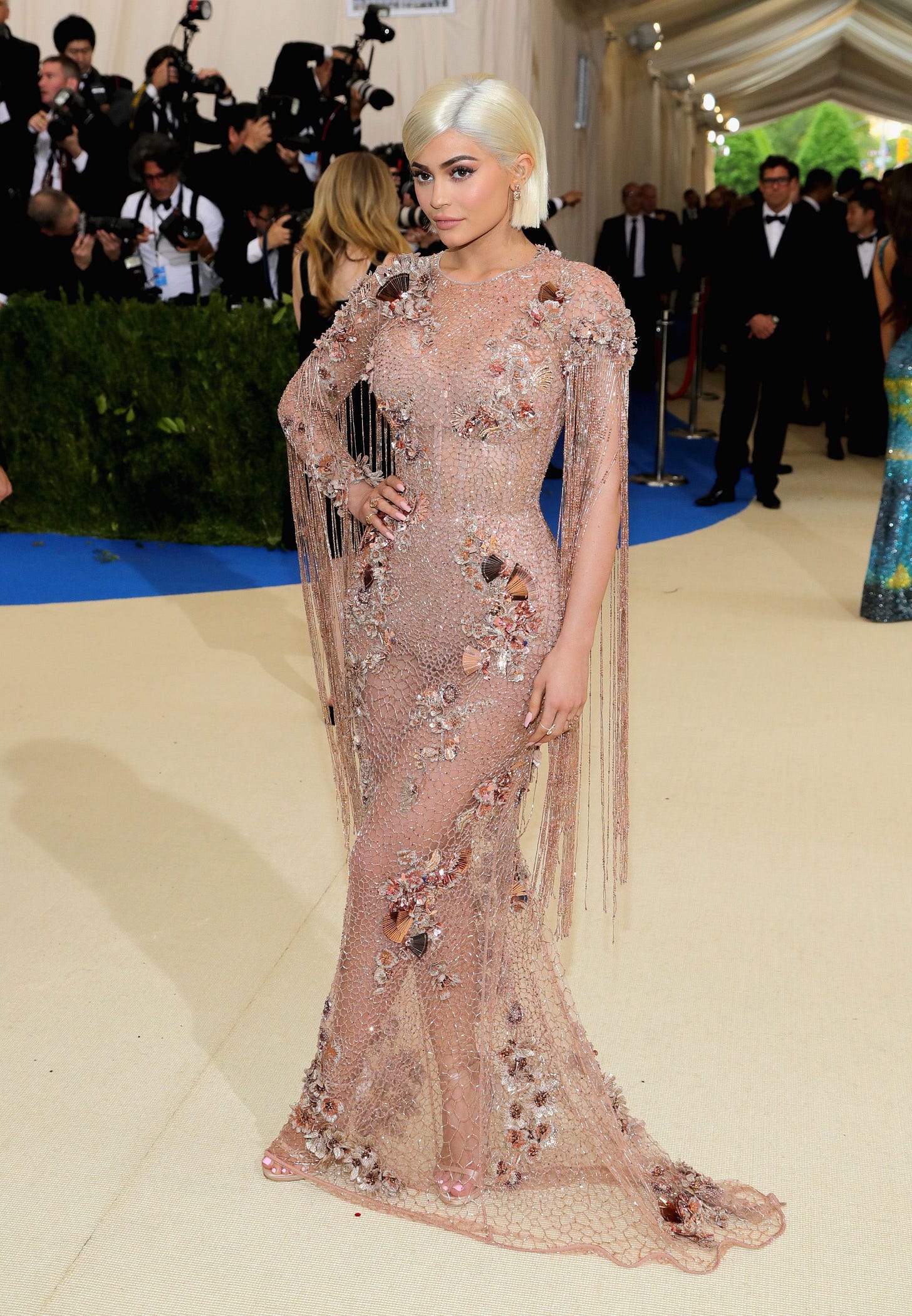 and say that she didn't like her hair color. Am I crazy? That ensemble is one of my top Met Gala looks EVER. (It comes in right behind Rihanna's exquisite yellow fur coat-cape, FYI.)
For what it's worth, two years later, when the Met Gala theme was Camp, she could have worn this AH-mazing hat with her outfit: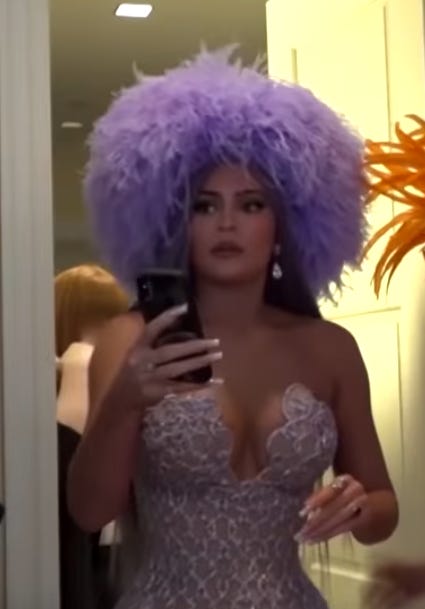 But instead chose to go with ONLY the sleeves, which, in my opinion, was a total travesty and did NOT fulfill the Camp requirement: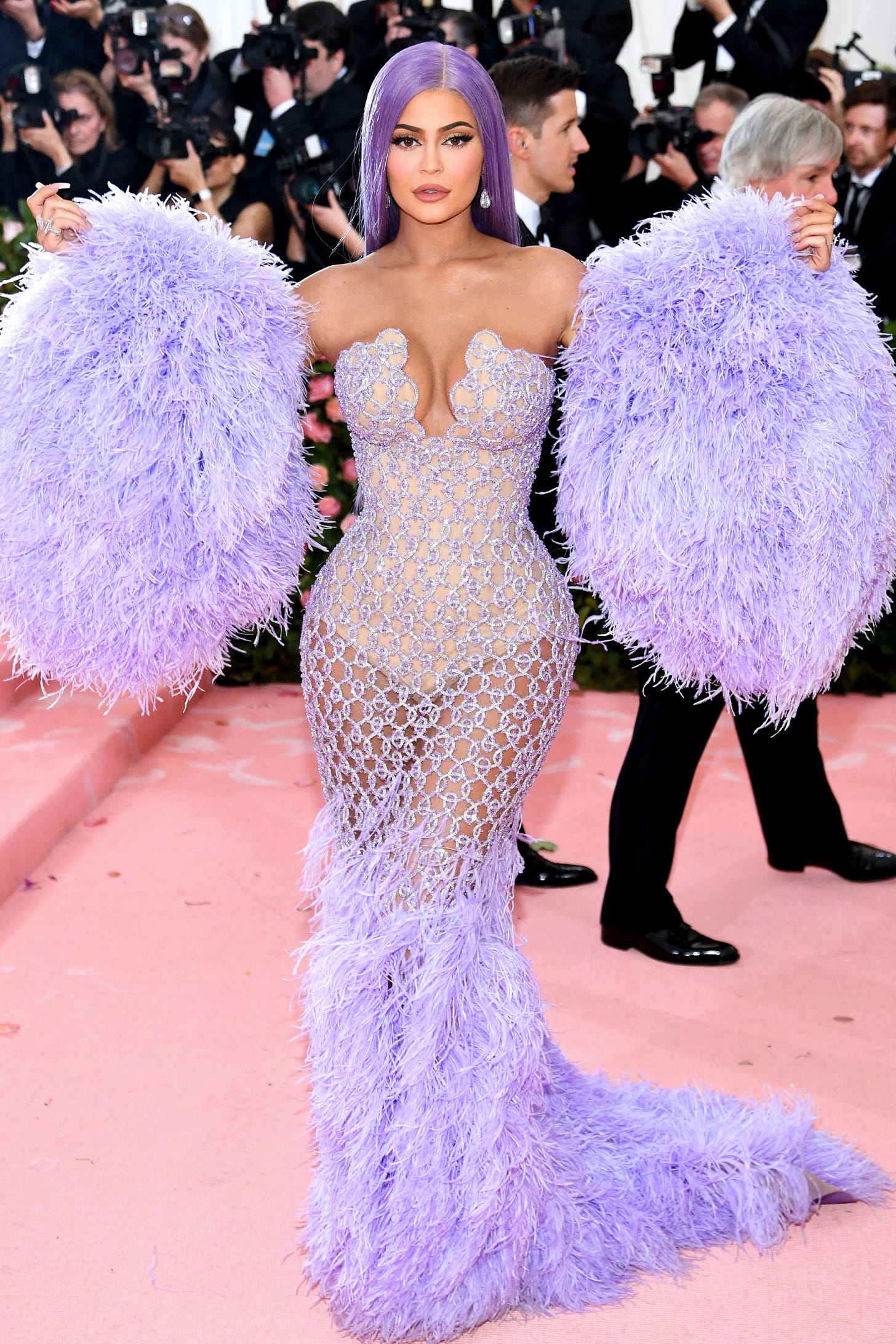 What I got from Life of Kylie is that there wasn't much going on behind the silence.
Is this why crushes are so *crushing*? Because you haven't spoken to the person with any real depth, so instead of understanding their worldview and actual opinions, you fill in the blanks with whatever matches their piercing eyes? That really all you WANT Midnight Mark to say is "How about it then?" because if he said any more it wouldn't be what you wanted anymore?
Yet I still buy Kylie Cosmetics lip kits. I still tried the Kylie Skin line, even after the Twitterati decided it was #bad. And just this month I was like, huh, yeah, I need a moisturizing face sunscreen, why not.
I still relish news stories about Kylie Jenner, such as the one this month connecting her to Megan Thee Stallion's shooting. (Though the lack of coverage of that angle is astounding! See: The devil works hard, but Kris Jenner works harder.)
I think the answer lies in some combination of aspiration and attainability. The Kardashians' lifestyle is unattainable by definition. I don't have a glam squad with a cosmetologist, makeup artist, hair stylist or image architect. Their bodies have been examined by critics with magnifying glasses and determined that they would take hundreds of thousands of dollars to achieve. Anything they sell to the public is supposed to be aspirational.
Yet Kylie Jenner's products give me a touch of fairy dust, a spot of thought that makes me feel a little more beautiful in my ordinary existence where I'm pretending I'll someday get to go to the Met Gala.
But I think something else happened. I think, for me, while watching Life of Kylie, something else floated through my mind. I think my fascination went from aspiration to superiority. I think, watching her and her teenage insecurity and her discomfort in her skin and her done-ness with everything, I might have gotten just a hit of assurance that no matter what, I will always be more interesting than the beautiful and wealthy Kylie Jenner.