I Finished My Quarantine Project
Can we stop now?
I'm sure there are people thriving during this quarantine. I myself have had incredible creative spurts in between bouts of tears that only half my family has met my baby. I'm sure there are people who are secretly glad to never have to see other people. But I'm not one of those people.
So this is about my Big Quarantine Project. After much planning and putting it off (and, frankly, forgetting about it), I painted our powder room.
Sooooo ……. can we come out now?
I miss seeing my options when I go grocery store shopping. I miss sitting in a dark movie theater and coming out to the blinding sun and the slight, delicious guilt of missing daylight hours. I miss the nauseating smell of tequila in bars, and bartenders who feel bad for you because your friend is busy flirting so they give you a free shot. I miss Zumba classes where you can't wimp out in the middle because you think everyone's watching your sweaty moves. I miss intuiting the best item on the menu in restaurants. I miss bookstores – god, I miss bookstores: the smell, the cleanliness, the parents wandering around with their hyper kids, the booksellers knowing EVERYTHING about their niche passion, the sense of exploration and discovery with every new book you see. I miss the library, too. I miss plays where you can see the actors' spit and concerts that get so full and claustrophobic you can't dance anymore but your favorite singer is talking TO YOU and it's sublime. I miss seeing hundreds of people I don't know on public transportation. I miss my friends.
Can we come out yet?
As I've mentioned before, I'm a big fan of Style by Emily Henderson. It's been pretty cool, after reading the design blog pretty much daily for awhile, that I feel that I've grown the skill to interpret my taste into my home decorating. I can put together a sense of the kind of place in which I'd like to exist. It's in my grasp; it's available to me.
The rooms painted in dark colors especially inspired me, since all of our walls are white. So I took it upon myself to paint our little-seen powder room.
We start with this: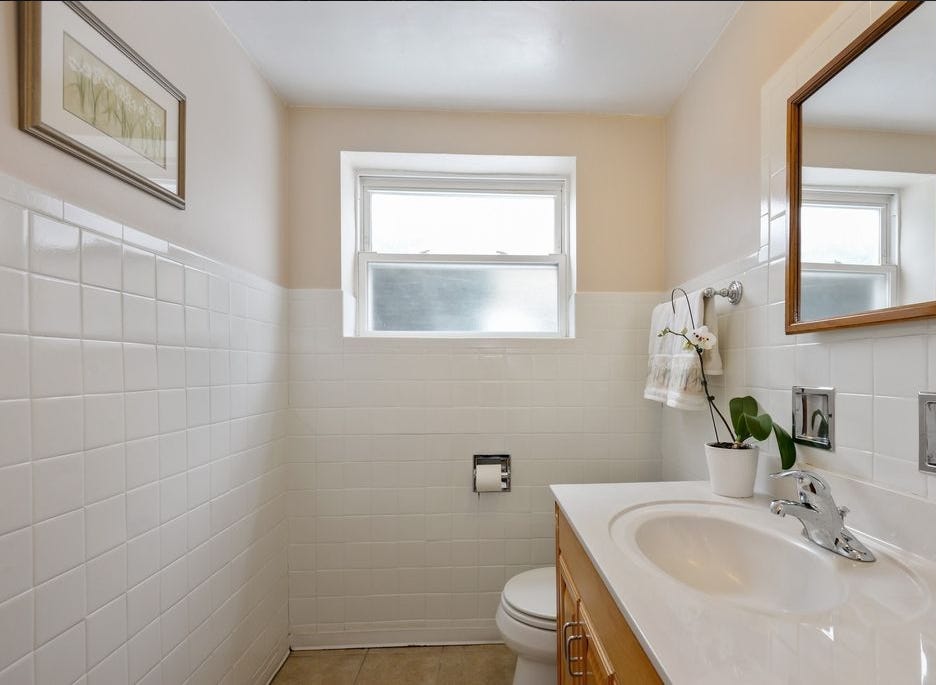 Et voila: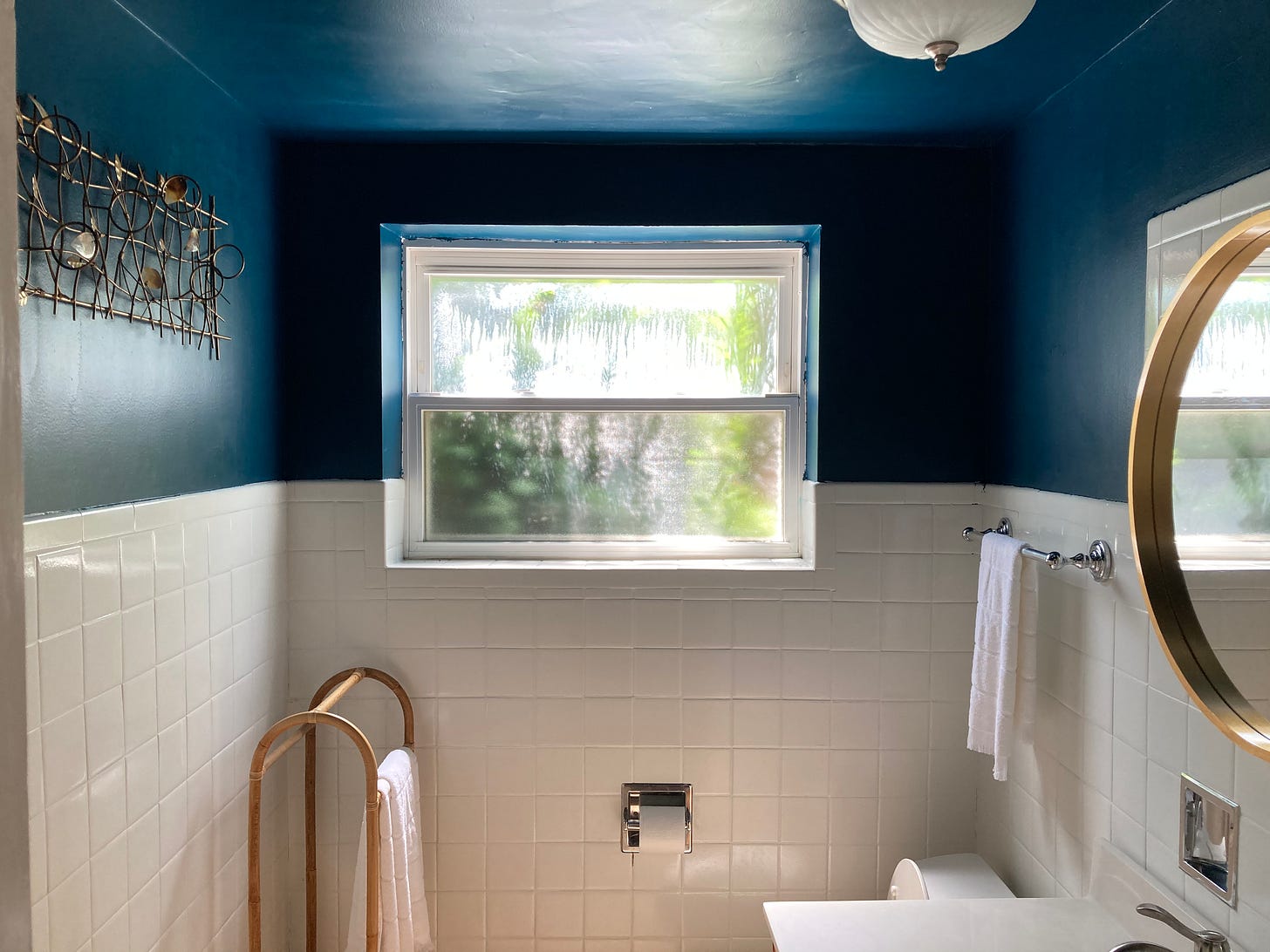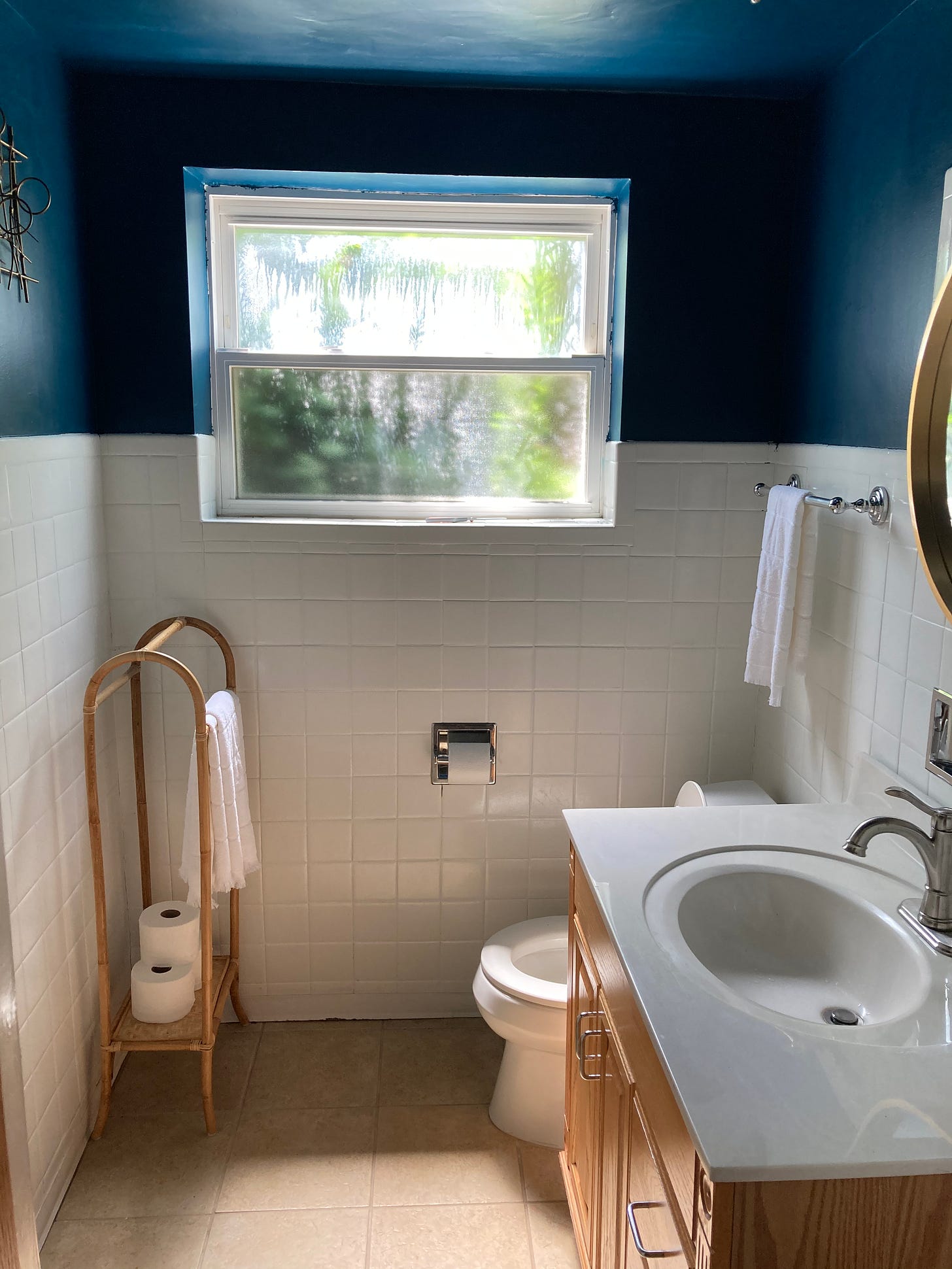 Say hello to Sailor's Coat in eggshell interior from Home Depot. Ignore the edges, I'll be chipping away at them for the next three years.
So. Now that I've accomplished the Big Thing, and I'm continuing to better myself and my intellect by learning Adobe After Effects, I'd say we can wrap this thing up now. Finish up this shelter-at-home deal, once and for all. Get this vaccine up and running, get little plexiglass boxes for people to cart around themselves, get instantaneous test results, doesn't matter. I miss the world.